On the day he needed to drive his best qualifying lap,
Mark Webber
totally imploded on the tracks at Abu Dhabi and quite literally and in amazing fashion gifted the 2010 Formula 1 racing title to Ferrari's
Fernando Alonso
, who by all accounts dragged his Ferrari to a podium start of third place behind Lewis Hamilton & Sebastian Vettel & who back in July if we remember was totally out of the running for this year's racing title as he found himself 47 points off the lead BUT this is NOT about who took or who stole, it is about who gave, who dashed, who gifted... Mark Webber!
On the biggest qualifying of the 2010 Formula One season and what was (or should have been) the biggest qualifying lap of Mark Webber's Formula 1 career, the Aussie just failed to show up at all! Qualifying in fifth position in the SAME CAR that his team-mate
Sebastian Vettel
drove in to capture POLE position at the Abu Dhabi grand prix, it might be safe to say that it is all BUT over for Mr. Webber, however fans of the sport will be quick to point out that this is the Formula 1 and anything can happen. Well as a huge fan of Mark for all of the 2010 season, I for one will not be holding my breathe... An absolute shambles!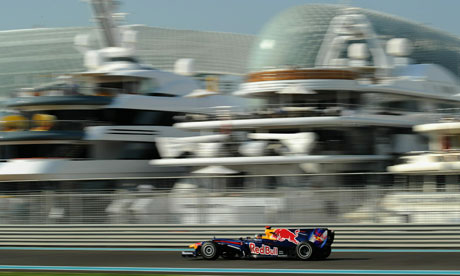 Sebastian Vettel
"I could not get the pace..." - Mark Webber on Abu Dhabi qualifying lap
For those of us with God in our lives, get in contact now...

#2010FormulaOne